Deliveries, Installations and Technical Service Visits
Our dedicated Miele Delivery, Installation and Service teams continue to serve you across Canada.
Delivery
Our Miele delivery teams are pre-screening customers to ensure that they are not experiencing COVID-19 symptoms and that they have not been exposed to COVID-19 and recent travel history.
To protect the health of our drivers and support social distancing, we are now operating a doorstep-only delivery service. This means:
• On arrival, customer is requested to maintain social distance
• Appliances can be delivered just inside your door or into an open garage
• Please check the dimensions and weight of appliances before ordering to ensure you are able to move the appliance once it has been left at your property
We are constantly monitoring our delivery capacity and order commitment. In cases where we have reduced capacity, we will prioritize delivery of the critical product categories (Washing Machines, Refrigeration, Ovens) which may result in your order being rescheduled. In this case, you will be contacted by a member of our team to discuss the options available to you.
Drivers have masks, gloves, and regularly sanitize the container of truck.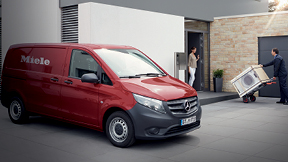 Installation
Our Miele Installation teams are pre-screening customers to ensure that they are not experiencing COVID-19 symptoms and that they have not been exposed to COVID-19 and recent travel history.
At each location, our installers wash up or sani-wash their hands, and they keep isolated (separate rooms in building construction zones). We do not allow other trades in the same suite or home. We ask that our residential customers keep a social distance and be one room apart. We have suspended providing demonstrations on newly installed products and we have suspended requiring a signature on completed work.
Installers are provided with:
• Safety gloves
• Shoe covers
• Working gloves
Shoe covers and working gloves are disposable and replaced with each job.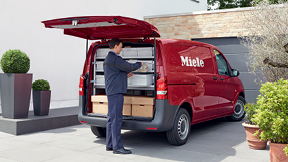 Service
We have reduced capacity in our Field Service teams. We are prioritizing their efforts to visit the most critical consumer groups first (the vulnerable, over 70s, Front line workers) and critical product categories (Refrigeration, Laundry Machines, Cooking).
We screen each service booking by asking consumers of their recent travel history as well, if there are any people in the home. We are also preparing to launch pre-authorization at point of service appointment booking to alleviate payment capture at point of service on-site. For service visits that can proceed, our technicians are provided with disposable working gloves and shoes covers, hand sanitizers, masks and disinfectant wipes and sprays. They will also outline their working area with painters tape to keep social distance. Before arriving at your home, the technician will call you to ensure you are still comfortable with the visit going ahead. The technician will also discuss the following requirements with you to ensure the visit can go ahead safely:
• They need to use the external door nearest to the appliance
• They will ask you to stay a safe distance away of at least 2-3 metres, or ideally in another room during the repair
• They will not ask for a signature once the visit is completed to avoid contact
• If, at any point our technician believes that entering your home could be a risk to you, them or other customers, the visit will be cancelled and rescheduled.