Latest update for Miele customers
The health and safety of our customers, partners and employees is our number one priority. Please explore this section for up-to-date news and protocols as we continue to serve you with modifications during Covid-19.
Miele Experience Centres
Miele Experience Centres across Canada are operating with modified operations. We are pleased to offer Curbside Pick-up, In-Person and Virtual Sales Consultations at locations across Canada, including Vancouver, Calgary, Montreal, Toronto (Vaughan) and Yorkdale.
Pre-booked, in-person appointments are recommended to avoid waiting in line, however, walk-ins will be accepted and based on availability.
Hours of Operation
Effective June 30, 2020, Miele Experience Centres across Canada, including Vancouver, Calgary, Montreal, Yorkdale and Toronto (Vaughan) will be open with varied hours of operation.
View Hours of Operation
In-person, Virtual (Video) or Telephone Sales Consultations
We are pleased to offer various types of sales consultations to meet your individual needs and preferences. From virtual 1-on-1 video consultations, to private in-store appointments at one of our Miele Experience Centres, to traditional telephone consultations, we are here to assist you in selecting and placing an order for your Miele appliances.
Please call 1-866-758-0462 or book your appointment online using the link below.
Book a Sales Consultation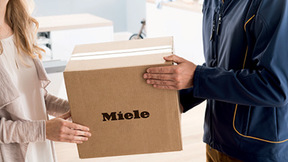 Curbside Pick-up
Please call 1-866-758-0462 and select your preferred Miele Experience Centre to place your order and obtain pick-up instructions.
Health & Safety Protocols
To protect the health and safety of our customers, employees and those in our local communities, Miele Canada has introduced enhanced procedures for our Miele Experience Centres, including:
• Increased daily cleanliness and sanitation protocols
• Operating under social distancing guidelines, ensuring that interaction among employees and customers can happen at a safe distance (6 feet or 2 metres)
• Requirement of employees to wear face masks while working
• Requesting that all customers wear masks while in a Miele Experience Centre. Miele Canada will provide face masks at the entrance of all stores for customers who do not have their own face covering.
• Implemented crowd control measures in order to limit the number of people in any store, based on size of store
• Customers who present signs of illness will be asked to reschedule an appointment for when they are symptom free
• Availability of hand sanitizing stations for employees and customers
Virtual Miele Culinary Institute Classes
Our new virtual Discovery and Master Classes are now available! Brought to you live from our Miele Experience Centre and hosted by our Product Expert Marilyn, these classes will help you learn more about Miele appliances and allow you to interact virtually from the comfort and safety of home.
Find an event