Miele Canada Kicks Off 2017 with Three Stunning Booths at IDS Toronto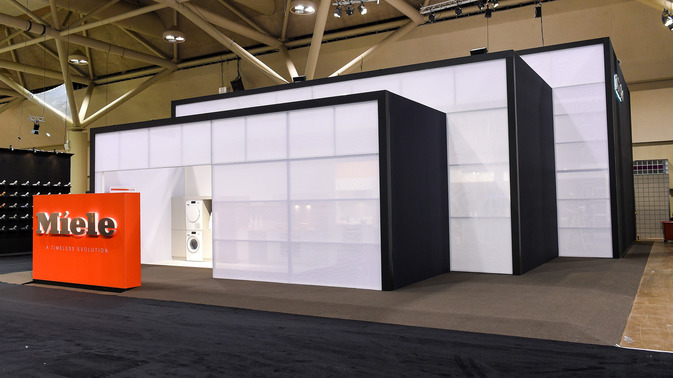 North American debut of Blizzard, the brand's first ever bagless vacuum revealed
Toronto – January 20, 2017 – Miele Canada is taking their presence at the Interior Design Show (IDS) to the next level this year, hosting three separate booths to unveil their major product launches for 2017 including the Blizzard, the company's first ever bagless vacuum cleaner. Miele's main booth (#1734), themed 'Timeless Evolution', will provide visitors with a snapshot of the ever-evolving lifestyle of Miele consumers – and the ability Miele has to fit the life stages, design preferences, home sizes and budget of the modern consumer. A second, neighbouring booth (#1634), is dedicated solely to Miele's North American premiere of their first-ever bagless vacuum, Blizzard, while the third booth (#2134), features products that make up the perfect laundry care system for contemporary consumers.
Visitors will have a sneak preview of the Miele Blizzard CX1 Vacuum, the most recent addition to the brand's vacuum lineup. The Blizzard CX1 operates on Vortex technology, exclusive to Miele, with air passing through a single, large cyclone to save power while providing a quiet yet powerful clean. Setting a new standard for cleaning performance and convenient hygiene, the Blizzard CX1's HEPA filter catches even the smallest of particles and allergens ensuring cleaner air for everyone, especially those who are sensitive to dust.
This year's event also marks the first IDS for Yves Dalcourt as President of Miele Canada. Mr. Dalcourt was appointed to the position last June and brings a wealth of knowledge coupled with extensive experience with the Miele brand in Canada. He leads all strategic growth and development for the Canadian market, bringing continuous innovation to retailers and consumers.
The following product launches will also be featured at IDS17:
FashionMaster Steam Ironing System
Contributing to the evolution of Miele's laundry care systems, the FashionMaster Steam Ironing System delivers perfect results thanks to its honeycomb surface, which helps the iron glide evenly, smoothly and effectively across all fabric types. This new ironing system features Miele's exclusive 1-2-Lift System, providing convenient storage compartments and adjustable working heights to reduce back strain.
W1/T1 Classic Washing Machine and Tumble Dryer
Designed to function harmoniously, Miele's new W1 Classic Washing Machine and T1 Classic Tumble Dryer offer mastered quality and longevity through innovation. The washer is designed with a protective drum preventing threads from being pulled and items in pockets to enter the pump, ensuring both clothing and machine are cared for, while the dryer's SteamFinish option steams and smooths fabric as an alternative to ironing.
EcoFlex Dishwashers
To meet the needs of consumers demanding eco-friendly products with superior cleaning performance, Miele created the new EcoFlex Dishwashers, coupling low energy consumption with short cycle times. EcoFlex features the new QuickPowerWash program, which completes a full wash and dry cycle in just 58 minutes. Additional features include the EcoTech heat storage unit to heat water using less electricity, 3D cutlery tray for loading flexibility, and WiFi connectivity for mobile monitoring and control.
Pricing and release dates for the Blizzard, FashionMaster, W1/T1 Classic Washer and Dryer and EcoFlex Dishwashers will be announced later this year.

Company profile:
Miele is the world leader in the field of premium domestic appliances including cooking, baking and steam-cooking appliances, refrigeration products, coffee makers, dishwashers and laundry and floorcare products. This line-up is augmented by dishwashers, washer-extractors and tumble dryers for commercial use as well as washer-disinfectors and sterilisers for use in medical and laboratory applications (Miele Professional). The company, founded in 1899, has 8 production plants in Germany and one plant each in Austria, the Czech Republic, China and Romania. 2012/13 turnover amounted to approx. EUR 3.15 bn with sales outside Germany accounting for 70%. Miele is represented with its own sales subsidiaries and via importers in almost 100 countries. The Miele company, now in the fourth generation of family ownership, employs a workforce of around 17,250 with two-thirds in Germany. The company headquarters are located in Gütersloh/Westphalia, Germany.

To learn more, visit www.miele.ca