ProfiLine
Fast, versatile and economical
ProfiLine dishwashers ensures clean dishes in only 24 minutes* while being extremely economical in the process. Energy and water consumption have been even further reduced.
The machine offers a simple user interface and various options to meet a wide variety of requirements.
* Depending on site conditions (water temperature/power connection)
Discover our products
Customer benefits
Very short cycle times
Are very short cycle times and sparkling results important to you? In this case, the ProfiLine dishwashers are the perfect choice: Connections for hot water and a 240V supply, intelligent dishwashing technology and a powerful heater pump ensure the shortest possible cycle times, starting at only 24 minutes (when connected to hot water and 220-240V), combined with optimum cleaning results. Take advantage of innovative features that make your dishes sparkle day after day in the shortest amount of time.
Convenient connectivity
How about saving time to concentrate on more important jobs?
No problem! Whether from home or 'on the fly' – networking your ProfiLine dishwasher opens up innovative opportunities which offer greater convenience, quality of life and security in the hustle and bustle of commercial life.
With the aid of the free Miele apps* Miele@mobile or mielepro@mobile, you are in a position to communicate with your machine from anywhere and at any time to control programs, check up on remaining program times or monitor supplies.

*Minimum requirements: Android 4.2+ / iOS 9+
Automatic dispensing of liquid detergent
Dispensing liquid detergent via an external dispenser (optional) is both convenient and precise.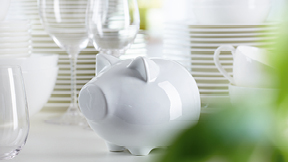 Low consumption
The environmentally friendly way of cutting costs: ProfiLine dishwashers with their low consumption are convincing and known for their maximum efficiency. The aim at the product design stage is to achieve perfect dishwashing results by using recyclable materials and no more water, energy and detergent than is absolutely necessary.
Product overview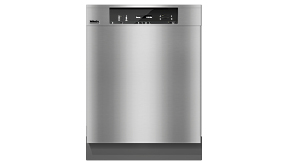 PG 8130 U
Commercial dishwasher for mountains of dishes from meeting rooms, offices and staff kitchens. Eight programs ensure maximum flexibility. The 'ProSpeed' program with a cycle time of only 24 minutes when connected to hot water and 220-240V it is the ideal solution for routinely spotless results. With WiFiConn@ct and automatic liquid dispensing, the machine takes much of the workload off the hands of users, making operation simple. Built-under unit.
Discover our products
Brochure