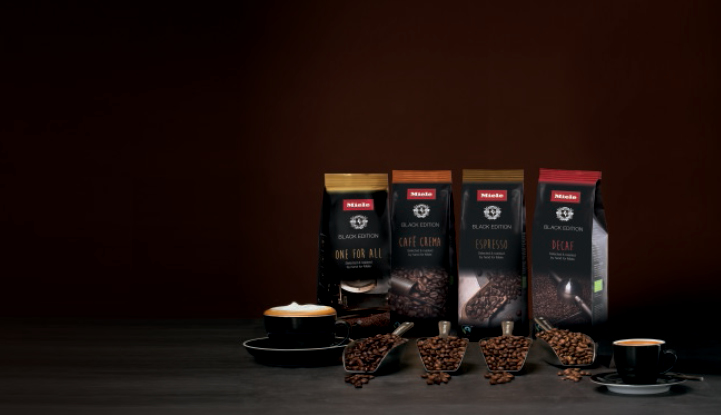 Miele Black Edition Coffee Beans
Enjoy four exclusive coffee blends for a refined taste
Available now
Miele coffee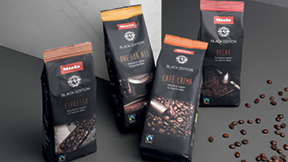 Black Edition coffee beans: enjoyment for all your senses
Look forward to perfect coffee enjoyment: achieving this depends not only on the right preparation method but also on the quality of the coffee beans. For this reason, we have created four coffee blends of our own, specifically for Miele coffee machines. The hand-picked, hand-sorted and organically-grown coffee beans are carefully treated and gently roasted – allowing their full aroma to unfold during the brewing process.
Miele Black Edition ONE FOR ALL
This ensures that your coffee specialities are always a success: Miele's Black Edition ONE FOR ALL is full-bodied with a subtle fruity note. This allows you to use the 100 % Arabica blend for a wide variety of drinks.
Miele Black Edition CAFÉ CREMA
Intensive enjoyment: the crema of a good CAFÉ CREMA allows the aroma to fully unfold. Our special blend has a light and balanced aroma and is made from 100% Arabica beans. Enjoy full-bodied flavour with a floral and fruity nuance.
Miele Black Edition ESPRESSO
A typical aroma, newly interpreted: with the Miele Black Edition ESPRESSO coffee beans, you can create lively and particularly aromatic Espresso. The mix: intensive flavour with a spicy chocolate note – created with Robusta and Arabica beans.
Miele Black Edition DECAF
With Miele's Black Edition DECAF blend, you can enjoy all types of coffee specialities of the highest quality without caffeine. This coffee blend is decaffeinated gently using a special organic process. The aroma remains – you taste 100 % Arabica, Fairtrade and organic certified like all of our coffee types.
Roasting process
Our partner: private coffee-roasting company Vollmer
With the private coffee-roasting company Vollmer, Miele has a partner with traditions and values that match our own. Vollmer was founded in 1936, as a general goods store with an attached roasting facility. Over the last 80 years, Vollmer has gained great experience in roasting and developing unique coffee blends. Like Miele, Vollmer places great value in quality - ensuring their Fairtrade certification.
The right roasting process is decisive
The unique aroma and flavour of each coffee bean is the result of the roasting process. During the grease-free, dry roasting process, up to 800 aromatic substances (contained in the coffee beans) are revitalized.
Roasting time influences the moisture, as well as the acidity of the beans. The darker the roast, the less acidity, but more bitterness and sweetness is released. Temperature development and roasting time therefore influence the aroma and flavour of the coffee beans. This means that the same type of bean can taste differently depending on the parameters of the roasting process.
During the roasting process of Miele Black Edition ONE FOR ALL blend, the untreated coffee beans are poured into a pre-heated roasting container. This dries the beans and pre-warms them. Then they are roasted, during which the first aromas begin to develop at approximately 302°F. At the end of the roasting process, the coffee is at least 356°F hot before it is cooled down.
Fairtrade guaranteed
Miele Black Edition Coffee Beans are certified as fair trade. Fair trade certification refers to the coffee beans used. After crude oil, coffee is the world's second most important raw export product. With the purchase of fair trade coffee, Miele is making a valuable contribution towards improving the living and working conditions of coffee grower families in under-developed countries, while also promoting the protection of the environment. Miele coffee originates entirely from one fair trade cooperative.
18-month freshness guarantee
Good flavour is dependent on storage conditions. To achieve the full aroma of Miele Black Edition, the coffee beans are packaged in aroma-proof 8.8 oz. (250 g) bags - made from composite aluminum foil. As aroma may escape over long storage periods, our roaster recommends using the coffee beans within 18 months of purchase - to experience truly delicious coffee.
Appliances and CareCollection
Appliances and CareCollection
Miele coffee machines: pure enjoyment
For those who love perfectly-prepared coffee, Miele offers a wide range of outstanding coffee machines. Whether you are an ambitious barista, a fan of steamed milk or lover of exclusive specialty coffee, you can enjoy your favourite beverage not only in a café, but at home too.
Anytime and with ease – with Miele.
Shop now
Accessories and cleaning for long-lasting enjoyment
The coffee machine is only one of the many prerequisites for the perfect preparation of your favourite specialty coffee.
Cleaning your Miele appliance regularly and correctly is critical. We make this as easy as possible for you, with an automatic cleaning program or the easily removable brew unit. By treating and maintaining your appliance correctly, you ensure that your Miele appliance functions perfectly.
Shop now
Coffee enjoyment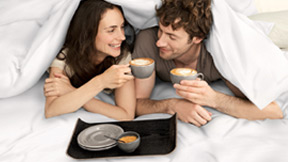 Prepare any type of specialty coffee beverage
To prepare your perfect coffee beverage, simply be creative and adventurous. With a little experimenting, you can easily select the settings that best suit your favourite coffee.
For best results, the following settings are important: portion size, amount of ground coffee beans, brewing temperature, pre-brewing and grinder setting.
Consult your machine's operating instructions for further detail.
It is all about the settings
Baristas have mastered the art of coffee preparation. Their secret is the great care and exactness they apply when making coffee. They reset the grinder every morning to take into account weather conditions (particularly the humidity in the air). To ensure that the perfect settings have been selected, test espressos are brewed until the perfect crema is produced.
To guarantee that you, as an owner of a Miele coffee machine, achieve such perfect results, we have established the perfect settings for our Black Edition ONE FOR ALL coffee beans:
For espresso, cappuccino und latte macchiato
| | |
| --- | --- |
| Portion size: | 30 ml |
| Amount of coffee: | 3rd position from left |
| Brewing temperature: | High |
| Pre-brewing: | Short |
| Grinder setting: | 4th position from left |
For coffee
| | |
| --- | --- |
| Portion size: | 140 ml |
| Amount of coffee: | 3rd position from left |
| Brewing temperature: | High |
| Pre-brewing: | Short |
| Grinder setting: | 4th position from left |