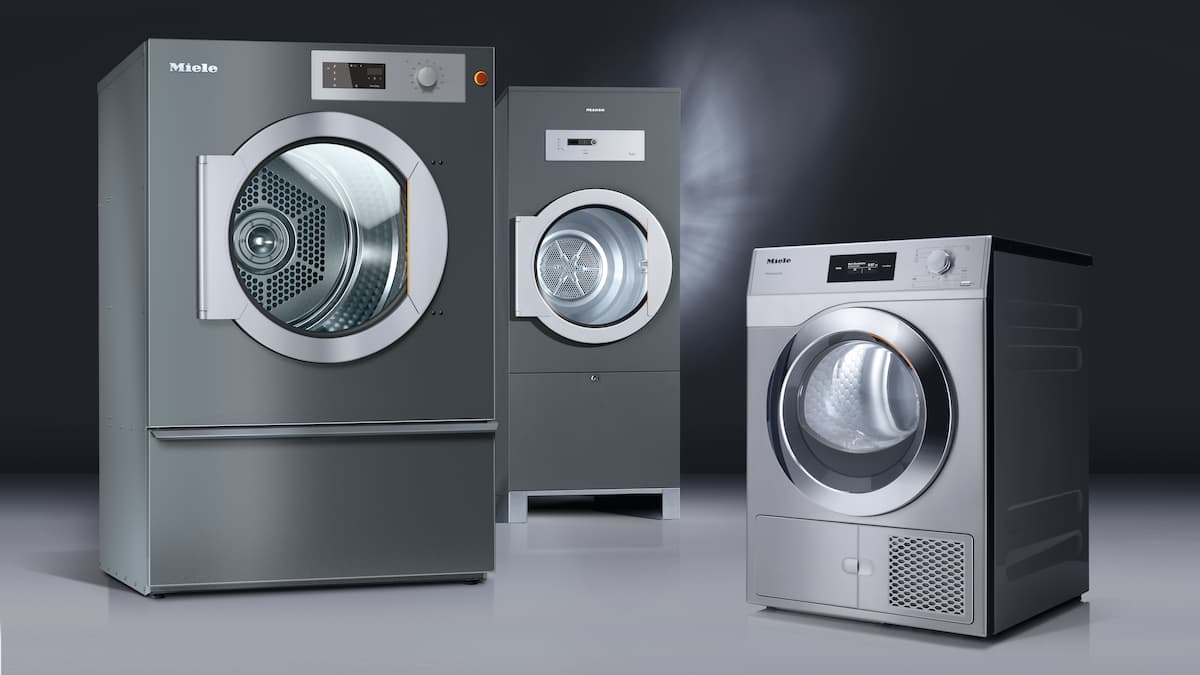 Commercial tumble dryers
Extremely short program cycle times and outstanding laundry care: Tumble Dryers ensure fast laundry turnaround.
Honeycomb drum
Less folding, easy finishing: Laundry is dried very gently and evenly in the honeycomb drum.
Countdown indicator
After the program has started, the display shows the cycle time remaining.
Drum lighting
No laundry item is overlooked when unloading thanks to the perfectly lit honeycomb drum.
Steam heating method
If steam is available, this can be used directly for heating the Miele commercial laundry machines.
RS 232 serial interface
The serial interface allows communication with technical terminal devices for data exchange.
Intelligent tumble dryers
Gentle and uniform drying thanks to intelligent technology.
PerfectDry system
On the basis of a constant residual moisture measurement, the PerfectDry system perfectly dries garments.
SlimLine design
The slim design, just 711 mm wide, fits in the smallest space.
Patented Air Recycling Plus*

European patent EP 1 682 715 B1
Low energy consumption and quick drying in particular for large volume textiles.
Self-service operation
Optimum use in self-service laundries is made possible by special controls.
User instructions in a variety of languages
Avoids operating errors: All instructions and processes can be displayed in a variety of languages.
Programmable dryer controls
Whenever needed: Programmable controls enable perfect adaptation to suit individual requirements.
Tumble dryers for self-service facilities*

Vented version
These tumble dryers meet the requirements of self-service laundromats. These appliances are suitable for the use with payment systems and are easy to operate.
Tumble dryers for professional cleaners
These tumble dryers meet the requirements of dry cleaners. M Select and M Select Pro tumble dryers also offer special programs for drying delicate fabrics (shirts, suits, etc.).
Tumble dryers for fire stations & rescue serv.
These tumble dryers meet the requirements of fire stations and rescue services. Among other things, these machines are equipped with special drying programs for equipment such as breathing masks and protective work clothing.
Tumble dryers for stud farms and riding stables
These tumble dryers meet the requirements of riding stables, for instance with special drying programs for horse blankets and wool blankets.
Tumble dryers for camp sites
These tumble dryers meet the requirements of camp sites. For example, these appliances are suitable for use with payment system and are easy to operate.
Profitronic M controls
A large number of predefined programs are already available as standard in the Profitronic M controls. A particular benefit in these controls is that all the program parameters can be individually adjusted. Thus all the wash requirements can be taken into account. In addition, the user can see the program selected and other program details such as temperature and program cycle time in the display information.
Washer-dryer stack
High performance in the smallest space: Installation as washer-dryer stack requires less than 0.5 m² floor space.
Minimal energy consumption
The Miele Professional heat-pump tumble dryers are true masters of energy conservation. Depending on model, they use about 50-60% less energy and so help protect the environment. Moreover, their short running times make them perfectly suited to the demands of professional laundry care. Since the dryer does not need an extraction vent, no costly installation is required and the loss of energy through an external opening is avoided.
Tumble dryers for amusement parks & resorts
These tumble dryers are particularly well suited to the needs of amusement parks and holiday resorts, for instance, thanks to their robust commercial technology with short program times, simple operation and option for connecting payment systems.
Tumble dryers for public/community facilities
These dryers meet the requirements of public and community facilities particularly well. They combine professional technology and programs for domestic use with short cycle times. They are also really easy to use and can be connected to payment systems if necessary.
WiFiConn@ct
Simple networking via WiFiConn@ct: Connect via smartphone/tablet and app
*
and retrieve status updates.
The Mobile app is available separately – its availability depends on the country or region. 
Learn more about our tumble dryers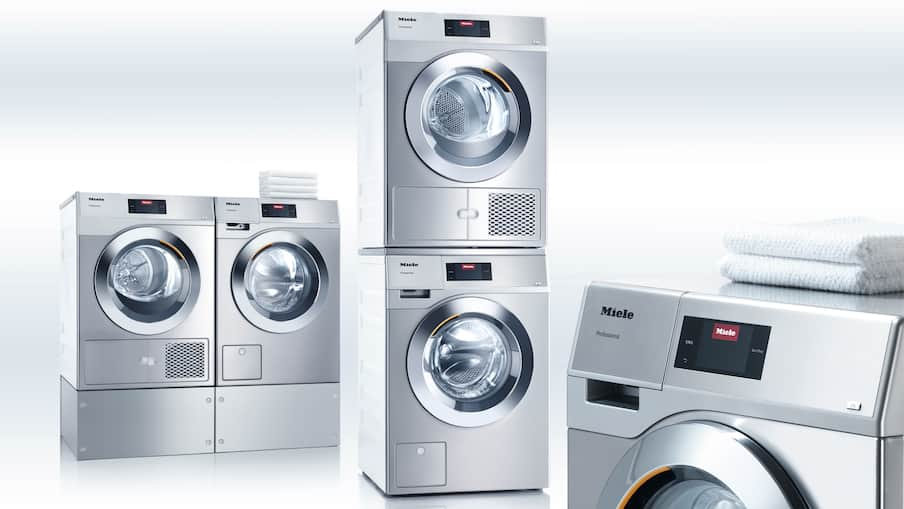 Space saving installation
Washer-dryer stack
A clever space-saving trick allows the combined performance of two appliances to be bundled into a single space: By using a special kit, a "Little Giant" tumble dryer can be installed on top of a Little Giant washing machine in a washer-dryer stack. In this combination they require only 60 x 73 cm of floor space.