New Little Giants – A solid foundation for your success
A solid foundation for your success
The Little Giants
Discover the compact Miele washing machines and tumble dryers for commercial use – for even greater cleaning performance, user convenience and efficiency.
To the Washing machine
To the Tumble dryers
Customer benefits
Rely on Little Giants:
Over the past four decades, well over a million Little Giants have earned their place in hotels, health care facilities, living accommodation, and a wide range of businesses. With the new generation, this successful model series now offers a number of innovative technologies and functions for even better cleaning performance, economical operation, user convenience, and flexibility.
This remarkable laundry system sets new standards for efficiency, using shortened wash cycle times. With precision water and energy use, the new Little Giants provide a sustainable laundry solution that reduces resources and operating costs.
Increased performance
The new Little Giants features unmatched technology, durability and reduced operating costs, while offering exceptionally gentle care of all fabric types.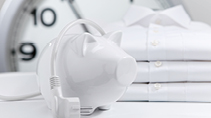 EcoSpeed
Intensive cleaning with reduced water consumption due to gradual speed changes.
Economical and efficient
Miele Professional commercial laundry appliances impress with particularly low consumption values.
Greater convenience and flexibility
Tailored programs meet the specific requirements of a wide variety of target groups, while the intuitive touch display and navigation in 32 languages make the user interface and experience extremely simple and convenient.
Simple and intuitive to use
Full-touch colour display: the user interface on the new Little Giants is simple and easy to navigate.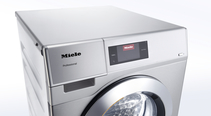 User instructions in a variety of languages
Preventing operating errors: all instructions and processes can be displayed in up to 32 languages.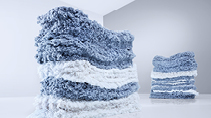 Professional programs
Special high-performance wash programs for a huge range of applications make it possible to remove even stubborn stains reliably.
Outstanding Miele quality is evident not only in the durability and low running costs of Little Giants, but also in the excellent cleaning performance and the very gentle treatment of textiles, which surpass all demands placed on commercial laundry-care systems.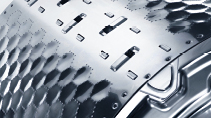 Efficient scoop rib technology
Fast and optimum wetting is achieved thanks to the specially shaped scoop ribs.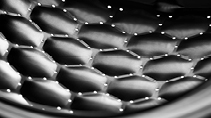 Patented honeycomb drum
The honeycomb pattern on the drum surface protects laundry perfectly during the washing and drying process.
Long service life
Professional technology ensures excellent reliability and durability for the daily work routine.
Industries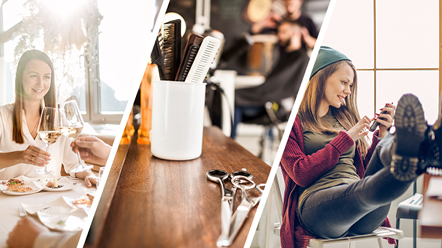 The right solution for every requirement
No matter which industry you work in, anyone having to rely on a supply of uncompromisingly clean and hygienic laundry requires a powerful systematic approach producing perfect results fast.
Hotels and restaurants
Brilliantly white tablecloths, bouncy bath robes and fluffy towels – well-laundered textiles make a strong statement about your brand, while keeping your guests feeling at home and returning for more.
Care homes
The well-being of residents at senior care facilities is critically important. The care and attention of staff contributes just as much to a sense of feeling at home as hygiene, cleanliness, and a careful treatment of personal textiles.
Contract cleaners
Modern contract cleaning places huge demands on quantity output and flexibility when cleaning and disinfecting mops, cloths, and other textiles. The correct machine type is essential to ensure competitiveness.
Small businesses
Whether you own a hair salon, café, or butcher's shop – your customers demand exceptional service and your undivided attention. So it helps if you, in turn, can rely on a professional solution.
Apartments
In laundry rooms used jointly by multiple persons, demands on machines are particularly high. A robust design, product longevity, an uncomplicated user interface, and a broad selection of programs play a key role in meeting these demands.
Wherever you work, we can help!
Alongside the industries presented here, the Little Giants are also perfectly suited for use in spas, by rescue services, on yachts, and in many other areas. In line with our brand promise "Immer Besser" ("Forever Better"), we will do whatever we can to find the best solution for you!
The Little Giants
Miele Little Giants
Uncompromising high-end solution for the most discerning.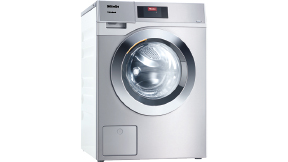 PWM 908 Washing Machine
Large load capacity of 8 kg
Convenient interface with full-touch colour text display and language selection
Patented honeycomb drum
96-hour delay start
Product longevity: Designed for 30,000 h
Numerous additional special programs as standard, e.g., Outdoor, various disinfection programs, WetCare, special programs, etc
Stainless steel or lotus white, enamelled
Go to product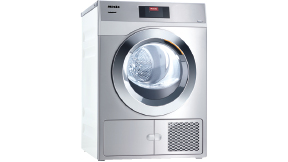 PDR 908 Tumble Dryer
Large load capacity of 8 kg
Convenient interface with full-touch colour display and language selection
As vented or heat-pump dryer
4D filtration system
Compact footprint of only 0.5m²
Stainless steel or lotus white, enamelled
Go to products
Media
Contact
Contact us!
Any questions or do you need further information on our products?
Please use our contact form, send us an email or call us free of charge.